As we continue to heal and rebound from the challenges of the pandemic, we are all on the lookout for activities and events that will bring a smile and, hopefully, even some laughter into our lives.
Chelsea Place Memory Care in Aurora Colorado seized an opportunity to do just that. It came in the form of a visit by Mark Hall, a talented local caricature artist.
Now, if you've ever had your caricature done, you know how fun the process is, as the artist proceeds to build out a humorous portrait, accentuating your (best and worst) features, often eliciting comments such as, "I don't look like that….do I?" Having your own caricature done or watching the artist sketch others seldom fails to bring out the good-humor and fun in everyone.
To conform with CDC health requirements, Mark Hall positioned himself outside on the Chelsea Place patio while residents came out, one by one, to have their portraits sketched. All agreed that the results really captured the residents' unique personalities. It was a fun day that got all the Chelsea Place residents and staff talking and chuckling at themselves and each other.
Below is a composite of three amazing caricatures…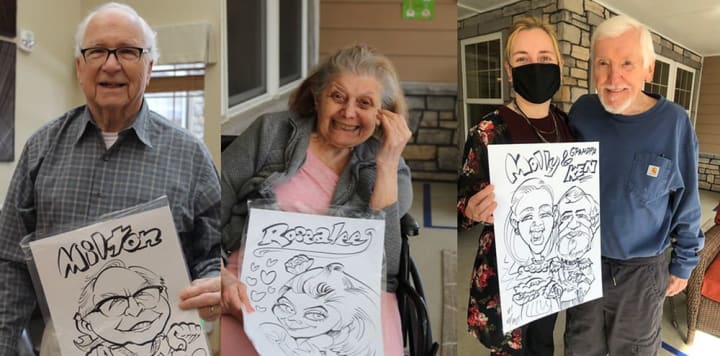 Molly, on the far right, is Chelsea Place's new life engagement assistant. That's Ken, her grandfather, on her right. Ken is a resident of Chelsea Place!
The event was covered by a reporter from local TV station, KDVR, who interviewed life engagement director, Jenni Dill right before Mark began his work. "With pandemic safety protocols still in effect, he can't come inside and meet the residents before sketching them," she told the reporter. "We think with this approach and his talent, he will be able to create compelling portraits that convey the fullness of each person."
He certainly did!