Most of us are aware of the many benefits of animal therapy, especially for those individuals challenged by dementia. Animals have always had a special way of connecting with and lifting the spirits of our memory care residents. But who would have thought that a pair of chickens would be able to have a similar impact? They are doing just that at Porter Place Memory Care in Tinley Park, Illinois. If you visit Porter Place, you will see the two resident hens, named "Coke" and "Pepsi", strut proudly in their special, secure garden area. They even have custom made harnesses so that residents can "walk" the hens in one of several outdoor areas at Porter Place.
The hens of Porter Place are part of the Happy Hen Program, managed by the Porter Place life engagement team. The residents have enjoyed helping to build and decorate the chicken coop as well as install special fencing to keep the area secure. Residents even got involved in a hen-naming contest, giving the hens some fun, unique names to match their unique personalities.
While the Happy Hen Program brings a lot of smiles, it is also providing considerable therapeutic value for residents, who spend time feeding and caring for the animals as well as enjoying interacting with them.
"Most of us derive meaning and satisfaction from nurturing others, and memory impairment does not diminish that desire," says Bobbi Kelley, Community Relations Director for Porter Place. "If anything, it becomes even more important. Coke and Pepsi have quickly become a vital part of daily life here," she adds.
Below are a few photos of the Porter Place hens and residents enjoying them.
Staff and residents worked together to build and decorate the entrance to the coop.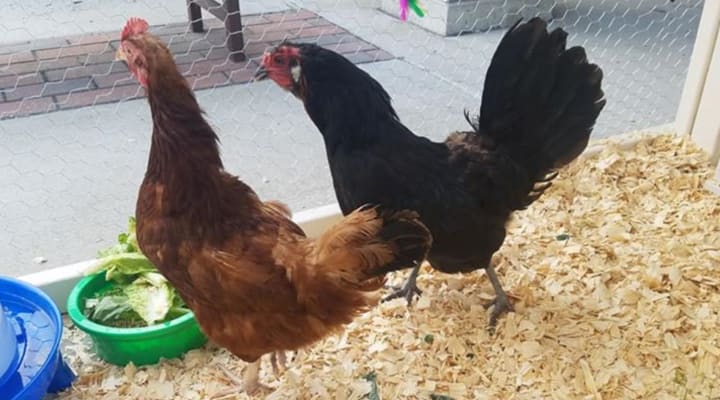 That's Coke on the left and Pepsi on the right.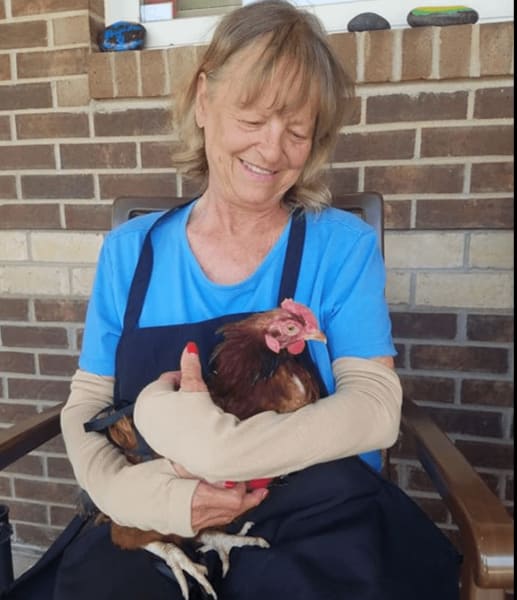 A resident wears special gloves to hold the hens. Her smile says it all!
The Happy Hen Program has been a huge success at Porter Place. And it has been a breath of fresh air for residents and staff dealing with all the many challenges surrounding the pandemic. Bobbi Kelley puts it best, "Our residents and their families really value our special life engagement programs because they provide purposeful interactions and a great amount of fun!"