When family members walk through our doors, they are not just visiting their loved ones, but also the nursing assistants who care for them. That's because these are the people who are closest to the residents. They know exactly what mom or dad needs at any given time. They know their life stories, their likes and dislikes. And they know their family members, in many cases, as well as their own.
Depending on their tasks and the community, they may be referred to as "nurses' aides", "resident care assistants", health aides" or "CNAs" (certified nursing assistants). Regardless of their name tags, however, these are some of the most loving, compassionate, observant, capable individuals you will ever meet.
Depending on the needs of each resident, a nursing assistant may help in the following ways:
Help with dressing and getting ready for the day.
Attend to personal hygiene; showers, baths, brushing teeth, grooming.
Assist with mobility to protect against falls.
Help with eating during meals.
Ongoing help throughout the day, taking them to the bathroom, etc.
Engage with them on a personal basis, sharing personal stories and interests.
These are just some of the ways in which nursing assistants help residents.
They are close companions to residents, picking up on cues that others, even family members, may miss. That is why they are the eyes and ears for doctors and nurses, quick to recognize when a resident may have an impending health issue or when they have a special need.
Who are these amazing, selfless individuals? Sharing a few photos of some of the heroes who protect, engage and love our residents every day:
Porter Place Memory Care nursing assistants in Tinley Park, Illinois. From left: Rae, Danae, Darian, Satoria, Brianna and Tyra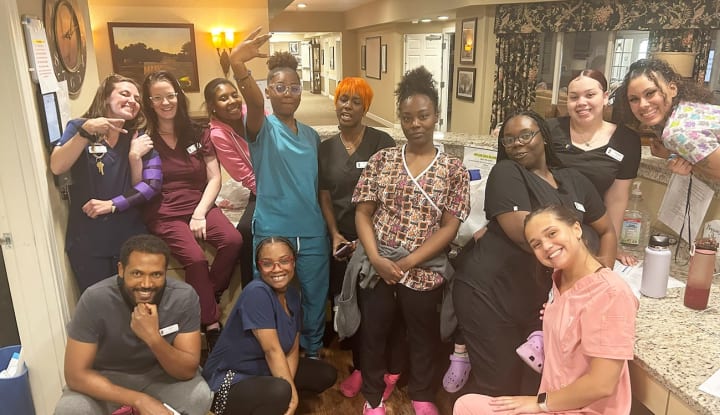 The compassionate, fun-loving nursing assistants of Elk Ridge Memory Care in Maplewood, Minnesota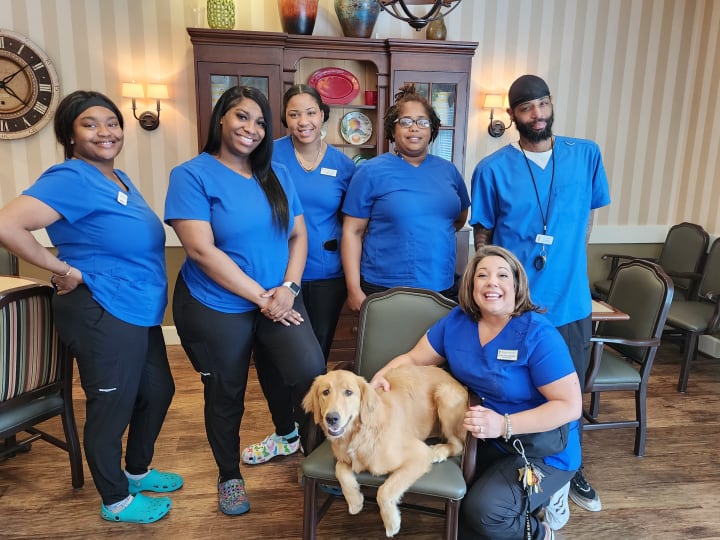 And these nursing assistants from Greenfield Estates Memory Care in Akron, Ohio even have a canine helper!
Our Anthem Memory Care nursing assistants form deep and meaningful relationships with residents. We invite you to visit a Anthem Memory Care community near you and take a moment to chat with them. You'll find them eager to engage with you, answer your questions, and talk about how much they love our residents.
Finally, if you have a loved one diagnosed with dementia, it is never too early to start researching memory care providers. You are always welcome to give us a call or drop in to one of our communities. We're here to help!
(Our header image is of the amazing nursing assistants team at Chisholm Place Memory Care in Wichita, Kansas!)