For most of us, celebrations represent the more enjoyable parts of our lives. While some families celebrate more than others, the act of getting together and wishing someone a "happy birthday" or celebrating a graduation or special anniversary provides an opportunity to enjoy one another's company and catch up with those you may not have seen for a while.
However, if you are caring for a loved one with dementia, you may worry that celebrations are over-stimulating, or that seeing old friends who they may not remember could raise anxiety levels. Certainly, in some cases, that's true. However, when handled with care, celebrations have a great way of connecting a loved one to those around them. Hearing the laughter and seeing the smiles of friends and family surrounding them can bring a welcome feeling of inclusion and raise the spirits.
At Anthem Memory Care communities we are always seeking opportunities to celebrate, whether it's a birthday, a wedding anniversary or one of many accomplishments by one of our own staff members (the top image, by the way, is of a birthday celebration at Willowbrook Place Memory Care in Littleton, Colorado).
While we love to celebrate at our communities, we also understand the importance of creating an environment that minimizes unwanted disruption and facilitates a relaxing, enjoyable experience for all.
You can do that too while including an aging loved one with dementia in family celebrations. Here are a few tips to keep in mind for your next celebration:
Plan in advance. A little planning really does go a long way. For instance, it may be easier to plan a daytime party for your aging loved one, especially if they struggle with sundown syndrome. Smaller get-togethers make it easier for your loved one to focus and minimize disruption. Also make sure that those who are invited are aware of your loved one's health status in advance.
Include your loved one in the preparations. This can be as simple as having them put up a few decorations and organize party favors or setting the table. If mom was always the one baking the cookies and cakes, let her help you in the kitchen. Purposeful activities take on even greater importance as we age, especially for those living with dementia.
Monitor their behavior during the celebration. Pay attention to your loved one's state of mind during the celebration. Is the noise level causing them anxiety? Are they getting tired or confused? If so you might consider relocating them to a quieter area or leting them take a short nap and rejoin the group later. It's important to keep an eye out for any signs of fatigue or anxiety. That way you can address it discretely and avoid potential issues.
We thought we'd share a few wonderful images of some recent celebrations at our Anthem Memory Care communities:
Vineyard Place Memory Care, in Murrieta, California, holds a special Mardi Gras themed party to celebrate being fully vaccinated and opening their doors!
A resident of Chisholm Place Memory Care in Wichita, Kansas, helps decorate for a Valentine's Day celebration.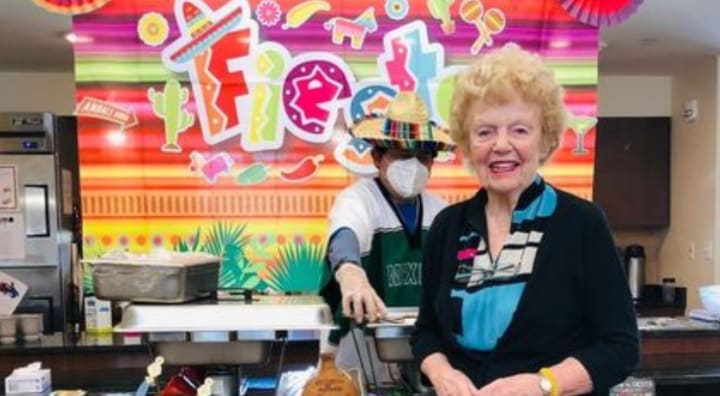 A fun (and delicious) Mexican fiesta celebration rolls out at Harvester Place Memory Care in Burr Ridge, Illinois.
Remember that, whether it's a milestone event or just a casual family get together, celebrations are important. And they can, with a little advanced planning and consideration, become joyful events again, for everyone.