Did you know that individuals living with Alzheimer's often find it easier to express themselves and even spark memories through art? Why is this? We know that with Alzheimer's, cognitive ability such as verbal communication becomes increasingly impaired. However, the process of putting paint on a canvas can serve as a release in terms of unlocking memories and communicating emotions that are harder to articulate for individuals with dementia.
It's an amazing phenomenon, but a very real one. That is why expression through art has been used in countless therapeutic settings to help individuals express themselves who might otherwise be unable to do so.
Tapping into the therapeutic value of art, the Alzheimer's Association launched a program ten years ago called Memories in the Making, which is centered on encouraging individuals in early to mid stages of Alzheimer's to pick up their paint brushes and submit their artwork for possible inclusion in their local chapter auctions. The proceeds go to support Alzheimer's research.
The program has gained steadily in popularity throughout memory care communities nationwide. This includes our own Anthem communities, such as Highline Place in Littleton, Colorado, whose residents, families and staff look forward each year to celebrating the artistic talents of the residents. And there is plenty to celebrate!
They recently shared some of the amazing artwork produced by residents. Their exhibit included the stories of the artists, one a former Broadway actress!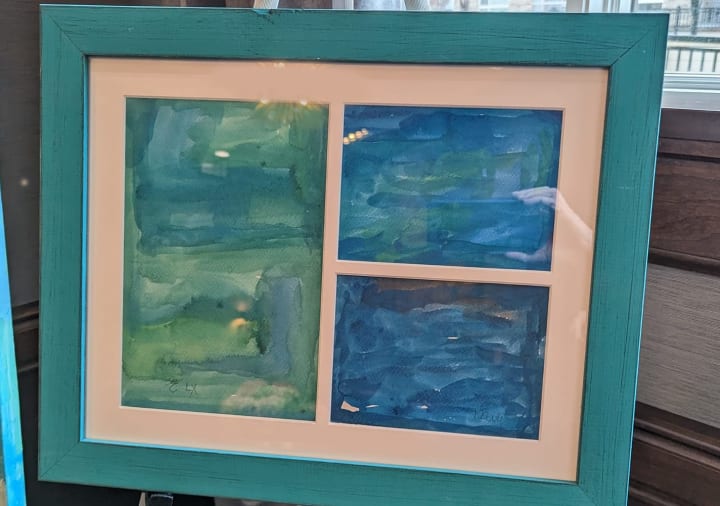 The Wild Blue Yonder by Emily Warner, a former airline pilot!
Emily's bio is below: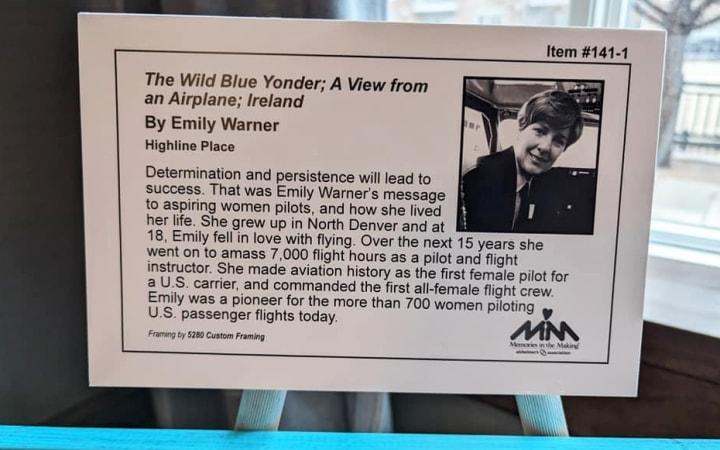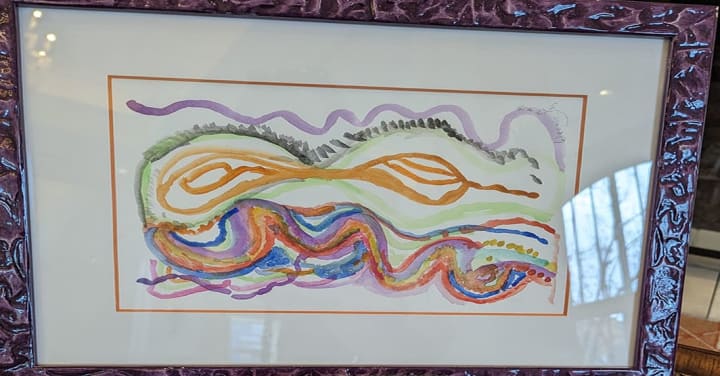 A Symphony of Color by Mary Warner, a former Broadway actress!
Mary's bio is below: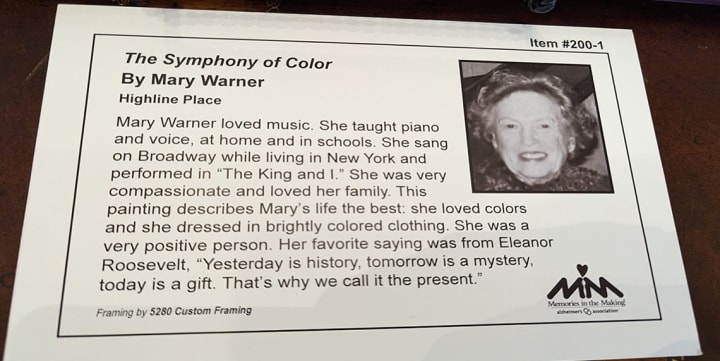 Highline Place has been participating in the Memories in the Making program almost since its inception ten years ago. And they are proud to say that they have had at least one of their participants chosen for the local Alzheimer's auction every year. This year, they had three!
If you are caring for loved one with Alzheimer's, getting out the watercolors and a clean white canvas just might be the catalyst to help them express themselves in ways that are easier than the frustration of trying to find the right words. And why not pick up a brush and paint alongside them? Art therapy is for everyone!
(Our header image shows additional artwork on display for Memories in the Making. We are continually impressed by the talent inside our Anthem communities!)