There is more than one reason we are so thrilled to have our residents and staff vaccinated. The most important, of course, is to keep residents and staff at all of our communities safe and healthy. But vaccinations bring a level of freedom we haven't seen in well over a year. Our doors are opening, our vans are filling up and we're taking off again on long overdue field trips.
Recently, residents of Highline Place Memory Care in Littleton, Colorado, took advantage of a "free donut a day for vaccinated patrons" deal from Krispy Kreme Doughnuts. The outing drew the attention of local CBS Channel 4 in Denver, who sent a reporter and camera crew to film the event. Who would have thought that a simple visit to a doughnut shop would bring so much joy?
"Our residents have sacrificed a lot over the past 12 months to ensure COVID safety and they have done so with tremendous strength and grace," Jodi Cornman, senior community relations director for Highline Place told Channel 4 news. "What they have been through makes this more than just an outing for a snack with friends. It is an opportunity to return to the pleasures of normal life and demonstrate how important it is for people to get vaccinated."
Here are a couple more of our wonderful outings. There will be more to share with warmer days ahead!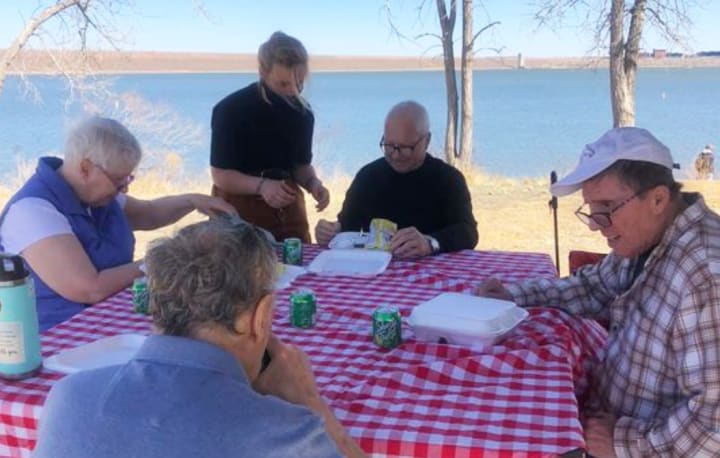 It's picnic time for residents of Chelsea Place Memory Care in Aurora, Colorado.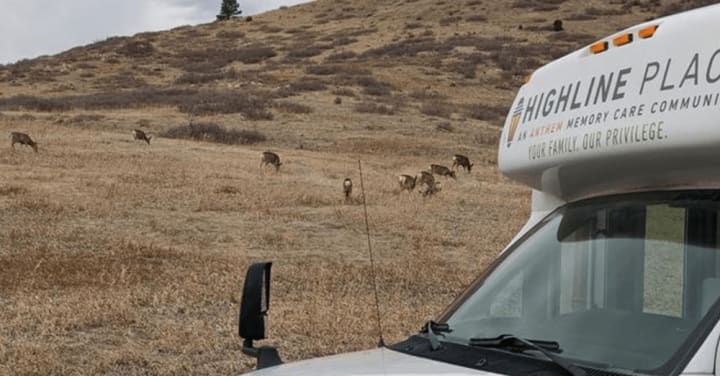 Another Highline Place outing; a bus trip to take in the views and the local wildlife.
For those of you with aging parents, especially those who have been isolated over the last year, a return to the joys of being physically together again is more than welcome. While we should continue to wear masks in public places in respect for the health concerns of others who are not vaccinated, we can once again enjoy physical contact, which is so important, especially for those living with dementia.
So, here's to a summer of ballgames, picnics, walks in the park, movies, dining out and all those other activities that we once took for granted. We certainly won't anymore!
(The top image for this article is of Highline Place residents enjoying their outing to the local Krispy Kreme doughnut shop, courtesy of CBS Channel 4, Denver)