When Mia walks through the doors of Chisholm Place Memory Care in Wichita Kansas, everyone smiles.
Mia is a German Shepherd mix and an official therapy dog, loved by just about everyone she comes into contact with. And there is a good reason for this. Animals bring with them a natural form of therapy that seldom fails to bring out smiles and laughter. This is especially true for those living with dementias, such as Alzheimer's disease. Many of our own residents have owned pets at one time or another in their lives. Engaging with animals can often spark a memory or too, along with the joy of the interaction itself.
That is one of the reasons our Anthem Memory Care communities work with local animal therapy organizations to bring these wonderful 4-legged visitors through our doors.
Karin Winegar, author of "Saved: Rescued Animals and the Lives They Transform" once remarked that "The human-animal bond bypasses the intellect and goes straight to the hear and emotions, and nutures us in ways that nothing else can."
While this is certainly true, there are more tangible benefits of those interactions as well. To name a few:
Improved physical health: Positive interaction with gentle animals can have a calming effect and, according to studies cited by the Mayo Clinic, has been known to actually reduce blood pressure and boost the immune system.
Reduced anxiety: Petting a dog or cat creates in individuals a sense of caring and purpose which can reduce anxiety and increase a sense of wellbeing.
Increased socialization: When an animal is in the room, engagement is increased, not only with the animal, but others as well. We have found that our animal visitors help connect our residents to our staff and visiting family members.
We'd like to share with you just a few of those interactions: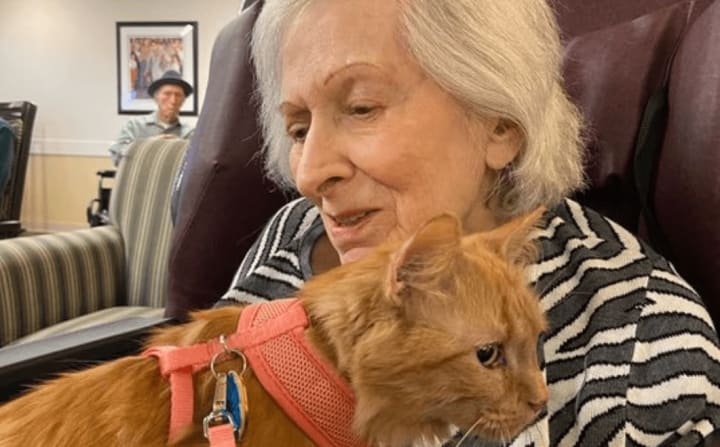 Lily the cat gets love from a resident of Willowbrook Place Memory Care in Littleton, Colorado.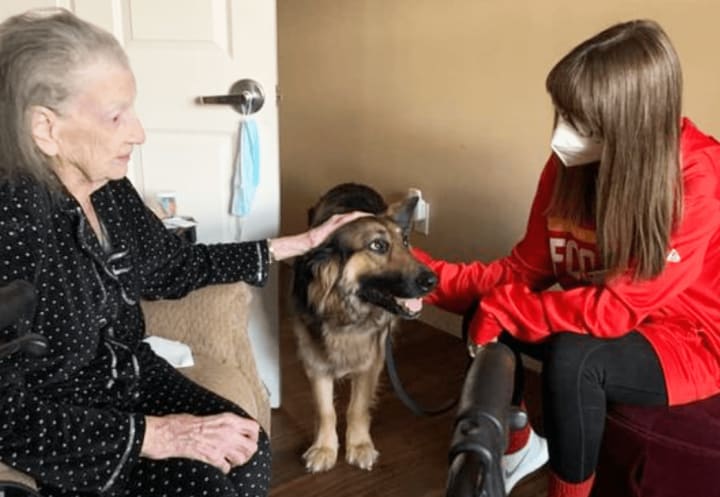 Here's Mia, basking in some TLC from a staff member and resident of Chisholm Place Memory Care in Wichita, Kansas.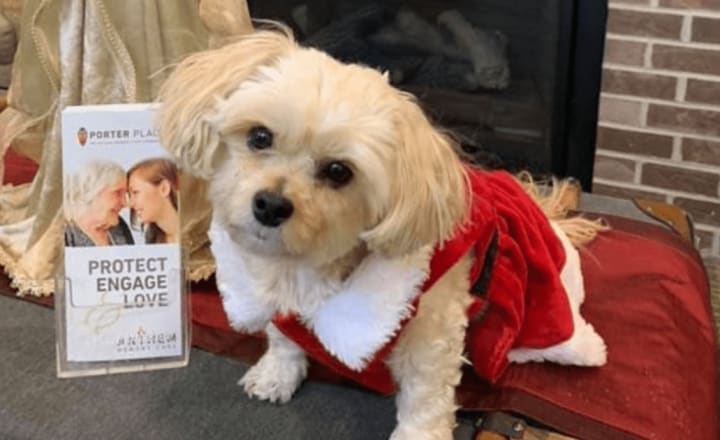 This sweet Poodle mix is dressed for the holidays at Porter Place Memory Care in Tinley Park, Illinois.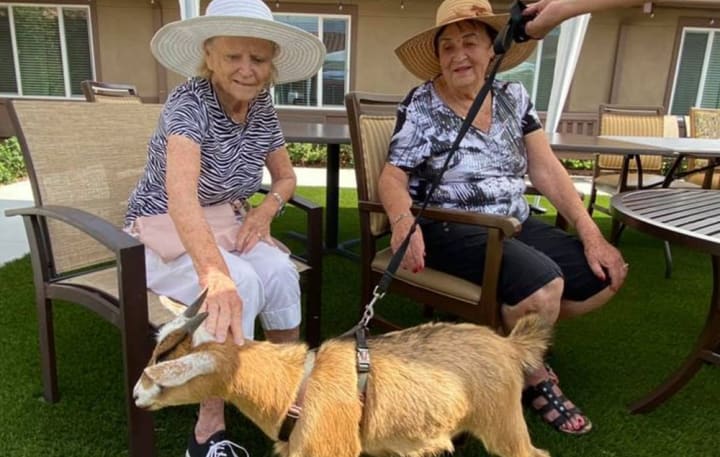 Residents of Vineyard Place Memory Care in Murrieta, California, enjoy the occasional goat visit. And why not? They are clean and very sociable!
If you are caring for an aging loved one who struggles with dementia, consider bringing a trusted family dog or cat in for a short visit. Of course, it's important to make sure that the animal is well behaved and clean, both key to making the visit a positive one. You may be surprised, when a beloved pet walks through the door, how quickly your loved one's eyes light up. Animals just have a way of doing that, we've found.
Dr. Edward Creagen of the Mayo Clinic once remarked about the value of animals, saying "If pet ownership was a medication, it would be patented tomorrow." We certainly agree!
(The header image is of "Amos" with a resident of Willowbrook Place Memory Care.)